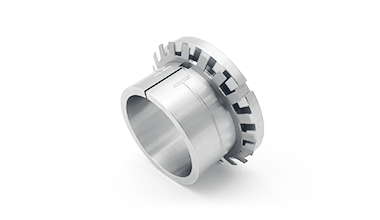 Product characteristics
Adapter bushing sleeves are used for shaft-mounted bearings with tapered bore. These bushings facilitate the installation and disassembly of bearings and simplify the bearing design. Adapter sleeves have a convergence on the forming surface – 1:12 or 1:30. We can distinguish between plain sleeves and sleeves with hydraulic assembly and disassembly support.
Bearing assembly and disassembly by hydraulic method
The use of the hydraulic method simplifies the assembly and disassembly of large bearings and the bearing design itself. How does it work? To overcome the friction between the surfaces of the bearing, sleeve and machine shaft, a very strong force must be used. Hydraulically assembled adapter bushings have lubrication grooves on the outside and sometimes in the hole as well as threaded holes for connecting the oil pump pressure hoses. An oil film is formed in the gaps between the fitted surfaces, which reduces the amount of force required to mount the bearing.

Own manufacture
H-type adapter sleeves are included with a nut and protective washer. ZUM manufactures adapter sleeves with a diameter up to 800 mm (small cone diameter) for metric and inch shafts. Dimensions of sleeves for metric shafts comply with DIN 5415 and ISO 2982-1.
Are you interested in this product?
Tabel of terms
| Lp | Symbol |
| --- | --- |
| 1. | H 204 |
| 2. | H 205 |
| 3. | H 206 |
| 4. | H 207 |
| 5. | H 208 |
| 6. | H 209 |
| 7. | H 210 |
| 8. | H 211 |
| 9. | H 212 |
| 10. | H 213 |
| 11. | H 214 |
| 12. | H 215 |
| 13. | H 216 |
| 14. | H 217 |
| 15. | H 218 |
| 16. | H 219 |
| 17. | H 220 |
| 18. | H 222 |
| 19. | H 2304 |
| 20. | H 2305 |
| 21. | H 2306 |
| 22. | H 2307 |
| 23. | H 2308 |
| 24. | H 2309 |
| 25. | H 2310 |
| 26. | H 2311 |
| 27. | H 2312 |
| 28. | H 2313 |
| 29. | H 2314 |
| 30. | H 2315 |
| 31. | H 2316 |
| 32. | H 2317 |
| 33. | H 2318 |
| 34. | H 2319 |
| 35. | H 2320 |
| 36. | H 2322 |
| 37. | H 2324 |
| 38. | H 2326 |
| 39. | H 2328 |
| 40. | H 2330 |
| 41. | H 2332 |
| 42. | H 2334 |
| 43. | H 2336 |
| 44. | H 2338 |
| 45. | H 2340 |
| 46. | H 2344 |
| 47. | H 2348 |
| 48. | H 2352 |
| 49. | H 2355 |
| 50. | H 30/500 |
| 51. | H 30/530 |
| 52. | H 30/560 |
| 53. | H 30/600 |
| 54. | H 30/630 |
| 55. | H 30/670 |
| 56. | H 30/710 |
| 57. | H 30/750 |
| 58. | H 30/800 |
| 59. | H 3024 |
| 60. | H 3026 |
| 61. | H 3028 |
| 62. | H 3030 |
| 63. | H 3032 |
| 64. | H 3034 |
| 65. | H 3036 |
| 66. | H 3038 |
| 67. | H 304 |
| 68. | H 3040 |
| 69. | H 3044 |
| 70. | H 3048 |
| 71. | H 305 |
| 72. | H 3052 |
| 73. | H 3056 |
| 74. | H 306 |

| Lp | Symbol |
| --- | --- |
| 75. | H 3060 |
| 76. | H 3064 |
| 77. | H 3068 |
| 78. | H 307 |
| 79. | H 3072 |
| 80. | H 3076 |
| 81. | H 308 |
| 82. | H 3080 |
| 83. | H 3084 |
| 84. | H 3088 |
| 85. | H 309 |
| 86. | H 3092 |
| 87. | H 31/500 |
| 88. | H 31/530 |
| 89. | H 31/560 |
| 90. | H 31/600 |
| 91. | H 31/630 |
| 92. | H 31/670 |
| 93. | H 31/710 |
| 94. | H 31/750 |
| 95. | H 31/800 |
| 96. | H 310 |
| 97. | H 311 |
| 98. | H 312 |
| 99. | H 3120 |
| 100. | H 3122 |
| 101. | H 3124 |
| 102. | H 3126 |
| 103. | H 3128 |
| 104. | H 313 |
| 105. | H 3130 |
| 106. | H 3132 |
| 107. | H 3134 |
| 108. | H 3136 |
| 109. | H 3138 |
| 110. | H 314 |
| 111. | H 3140 |
| 112. | H 3144 |
| 113. | H 3148 |
| 114. | H 315 |
| 115. | H 3152 |
| 116. | H 3156 |
| 117. | H 316 |
| 118. | H 3160 |
| 119. | H 3164 |
| 120. | H 3168 |
| 121. | H 317 |
| 122. | H 3172 |
| 123. | H 3176 |
| 124. | H 318 |
| 125. | H 3180 |
| 126. | H 3184 |
| 127. | H 3188 |
| 128. | H 319 |
| 129. | H 3192 |
| 130. | H 32/500 |
| 131. | H 320 |
| 132. | H 322 |
| 133. | H 3260 |
| 134. | H 3264 |
| 135. | H 3268 |
| 136. | H 3272 |
| 137. | H 3276 |
| 138. | H 3280 |
| 139. | H 3284 |
| 140. | H 3288 |
| 141. | H 3292 |
| 142. | H 39/530 |
| 143. | H 39/560 |
| 144. | H 39/600 |
| 145. | H 39/630 |
| 146. | H 39/670 |
| 147. | H 39/710 |
| 148. | H 39/750 |

| Lp | Symbol |
| --- | --- |
| 149. | H 39/800 |
| 150. | H 39/850 |