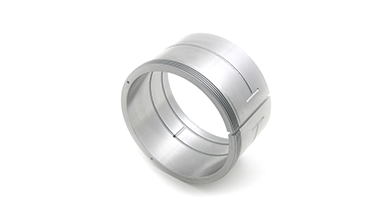 Product characteristics
Used for shaft-mounted bearings with tapered bore. The bearing rests on the shaft end and the sleeve is pressed between the pivot and the bearing. Withdrawal sleeves have a convergence on the cone-forming surface – 1:12 or 1:30.
Bearing assembly and disassembly by hydraulic method
The use of the hydraulic method facilitates the assembly and disassembly of large bearings and simplifies the bearing design. How does it work? To overcome the friction between the surfaces of the bearing, sleeve and machine shaft, a very strong force must be used. Hydraulically assembled withdrawal bushings have lubrication grooves on the outside and in the hole as well as threaded holes for connecting the oil pump pressure hoses. An oil film is formed in the gaps between the fitted surfaces, which reduces the amount of force required to mount the bearing.

Own manufacture
ZUM manufactures withdrawal sleeves with diameter up to 900 mm (small cone diameter). Dimensions of withdrawal sleeves for metric shafts comply with DIN 5416 and ISO 2982-1.
Are you interested in this product?
Tabel of terms
| Lp | Symbol |
| --- | --- |
| 1. | AH 213 |
| 2. | AH 214 |
| 3. | AH 215 |
| 4. | AH 216 |
| 5. | AH 217 |
| 6. | AH 218 |
| 7. | AH 220 |
| 8. | AH 2236 |
| 9. | AH 2238 |
| 10. | AH 2240 |
| 11. | AH 2244 |
| 12. | AH 2248 |
| 13. | AH 2252 |
| 14. | AH 2256 |
| 15. | AH 2260 |
| 16. | AH 2264 |
| 17. | AH 2308 |
| 18. | AH 2309 |
| 19. | AH 2313 |
| 20. | AH 2330 |
| 21. | AH 2332 |
| 22. | AH 2334 |
| 23. | AH 2336 |
| 24. | AH 2338 |
| 25. | AH 2340 |
| 26. | AH 2344 |
| 27. | AH 2348 |
| 28. | AH 2352 |
| 29. | AH 2356 |
| 30. | AH 240/500 |
| 31. | AH 240/530 |
| 32. | AH 240/560 |
| 33. | AH 240/600 |
| 34. | AH 240/630 |
| 35. | AH 240/670 |
| 36. | AH 240/710 |
| 37. | AH 240/750 |
| 38. | AH 240/800 |
| 39. | AH 240/850 |
| 40. | AH 240/900 |
| 41. | AH 240/950 |
| 42. | AH 24024 |
| 43. | AH 24026 |
| 44. | AH 24028 |
| 45. | AH 24030 |
| 46. | AH 24032 |
| 47. | AH 24034 |
| 48. | AH 24036 |
| 49. | AH 24038 |
| 50. | AH 24040 |
| 51. | AH 24044 |
| 52. | AH 24048 |
| 53. | AH 24052 |
| 54. | AH 24056 |
| 55. | AH 24060 |
| 56. | AH 24064 |
| 57. | AH 24068 |
| 58. | AH 24072 |
| 59. | AH 24076 |
| 60. | AH 24080 |
| 61. | AH 24084 |
| 62. | AH 24088 |
| 63. | AH 24092 |
| 64. | AH 24096 |
| 65. | AH 241/500 |
| 66. | AH 241/530 |
| 67. | AH 241/560 |
| 68. | AH 241/600 |
| 69. | AH 241/630 |
| 70. | AH 241/670 |
| 71. | AH 241/710 |
| 72. | AH 241/750 |
| 73. | AH 241/800 |
| 74. | AH 241/850 |

| Lp | Symbol |
| --- | --- |
| 75. | AH 241/900 |
| 76. | AH 24122 |
| 77. | AH 24124 |
| 78. | AH 24126 |
| 79. | AH 24128 |
| 80. | AH 24130 |
| 81. | AH 24132 |
| 82. | AH 24134 |
| 83. | AH 24136 |
| 84. | AH 24138 |
| 85. | AH 24140 |
| 86. | AH 24144 |
| 87. | AH 24148 |
| 88. | AH 24152 |
| 89. | AH 24156 |
| 90. | AH 24160 |
| 91. | AH 24164 |
| 92. | AH 24168 |
| 93. | AH 24172 |
| 94. | AH 24176 |
| 95. | AH 24180 |
| 96. | AH 24184 |
| 97. | AH 24188 |
| 98. | AH 24192 |
| 99. | AH 24196 |
| 100. | AH 30/530 |
| 101. | AH 30/560 |
| 102. | AH 30/600 |
| 103. | AH 30/630 |
| 104. | AH 30/670 |
| 105. | AH 30/710 |
| 106. | AH 30/750 |
| 107. | AH 30/800 |
| 108. | AH 3032 |
| 109. | AH 3034 |
| 110. | AH 3036 |
| 111. | AH 3038 |
| 112. | AH 3040 |
| 113. | AH 3044 |
| 114. | AH 3048 |
| 115. | AH 3052 |
| 116. | AH 3056 |
| 117. | AH 3060 |
| 118. | AH 3064 |
| 119. | AH 3068 |
| 120. | AH 3072 |
| 121. | AH 3076 |
| 122. | AH 3080 |
| 123. | AH 3084 |
| 124. | AH 3088 |
| 125. | AH 31/560 |
| 126. | AH 31/600 |
| 127. | AH 31/630 |
| 128. | AH 31/670 |
| 129. | AH 31/710 |
| 130. | AH 31/750 |
| 131. | AH 31/800 |
| 132. | AH 313 |
| 133. | AH 3132 |
| 134. | AH 3134 |
| 135. | AH 3136 |
| 136. | AH 3138 |
| 137. | AH 314 |
| 138. | AH 3140 |
| 139. | AH 3144 |
| 140. | AH 3148 |
| 141. | AH 315 |
| 142. | AH 3152 |
| 143. | AH 3156 |
| 144. | AH 316 |
| 145. | AH 3160 |
| 146. | AH 3164 |
| 147. | AH 3168 |
| 148. | AH 3172 |

| Lp | Symbol |
| --- | --- |
| 149. | AH 3176 |
| 150. | AH 3180 |
| 151. | AH 3184 |
| 152. | AH 3188 |
| 153. | AH 3230 |
| 154. | AH 3232 |
| 155. | AH 3234 |
| 156. | AH 3236 |
| 157. | AH 3238 |
| 158. | AH 3240 |
| 159. | AH 3260 |
| 160. | AH 3264 |
| 161. | AH 3268 |
| 162. | AH 3272 |
| 163. | AH 3276 |
| 164. | AH 3280 |
| 165. | AH 3284 |
| 166. | AH 3288 |
| 167. | AH 39/530 |
| 168. | AH 39/560 |
| 169. | AH 39/600 |
| 170. | AH 39/630 |
| 171. | AH 39/670 |
| 172. | AH 39/710 |
| 173. | AH 39/750 |
| 174. | AH 39/800 |
| 175. | AHX 222 |
| 176. | AHX 2310 |
| 177. | AHX 2311 |
| 178. | AHX 2312 |
| 179. | AHX 2314 |
| 180. | AHX 2315 |
| 181. | AHX 2316 |
| 182. | AHX 2317 |
| 183. | AHX 2318 |
| 184. | AHX 2319 |
| 185. | AHX 2320 |
| 186. | AHX 2322 |
| 187. | AHX 2324 |
| 188. | AHX 2326 |
| 189. | AHX 2328 |
| 190. | AHX 30/500 |
| 191. | AHX 3024 |
| 192. | AHX 3026 |
| 193. | AHX 3028 |
| 194. | AHX 3030 |
| 195. | AHX 3092 |
| 196. | AHX 3096 |
| 197. | AHX 31/500 |
| 198. | AHX 311 |
| 199. | AHX 312 |
| 200. | AHX 3120 |
| 201. | AHX 3122 |
| 202. | AHX 3124 |
| 203. | AHX 3126 |
| 204. | AHX 3128 |
| 205. | AHX 3130 |
| 206. | AHX 317 |
| 207. | AHX 318 |
| 208. | AHX 319 |
| 209. | AHX 3192 |
| 210. | AHX 3196 |
| 211. | AHX 320 |
| 212. | AHX 3218 |
| 213. | AHX 322 |
| 214. | AHX 3220 |
| 215. | AHX 3222 |
| 216. | AHX 3224 |
| 217. | AHX 3226 |
| 218. | AHX 3228 |
| 219. | AHX 3292 |
| 220. | AHX 3296 |